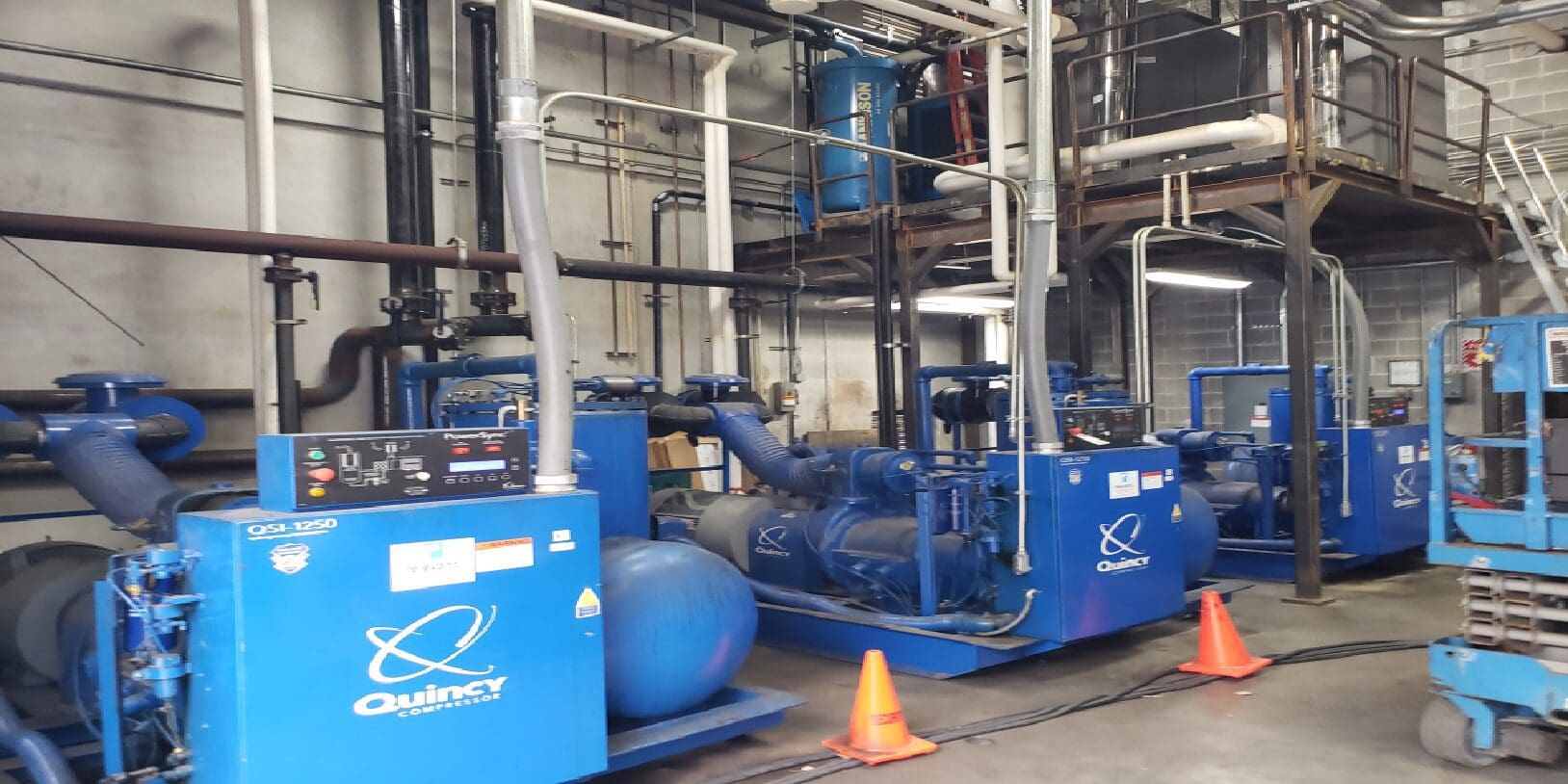 Baker Hughes The Woodlands
Our team was engaged to work on the Baker Hughes – The Woodlands Campus HVAC Replacement and Controls Upgrade in The Woodlands, Texas. The retrofit modification of the space is comprised of the manufacturing rooftop air handling units and the central plant for the facility. The existing air handling unit replacement comprised of fourteen (14) rooftop units that comprised of chilled water coils, hot water coils, direct drive plenum fans, air filter sections, and internal pipe riser housing section. We worked with the existing conditions to match the existing rooftop curbs so that curb adapters did not have to be utilized and helped mitigate additional roof penetrations and structural modifications.
Another part of the project was the replacement and upgrade of an existing 1,000 Ton Water-Cooled Centrifugal Chiller to a new 2,000 Ton Water-Cooled Centrifugal Chiller. Chilled water and Condenser water pumps and the associated piping were also upgraded and replaced as part of this scope of work. The existing central plant was field measured, and the installation of the new chiller and pumps were coordinated with the existing piping and architectural walls.
Three (3) new custom split-system air compressors (1250 SCFM) were also provided in replacement of the existing air compressor system that serves the manufacturing plant. The condenser was selected to be located outside to limit the additional heat load added to the central plant. The entire plant's existing pneumatic controls system was also upgraded as part of our MEP scope of work. All existing control valves for the office VAV system, AHU piping, and the central plant equipment were integrated into the new DDC building automation system.
The entre production and refrigerated storage HVAC systems were designed to meet Baker Hughes' internal design standards. The Infinity MEP team works stringently to ensure that our clients receive the highest standard of service, taking regional and geographical differences into mind when providing our designs. Coordination with the mechanical subcontractor and owner was critical to the success of the project moving forward on schedule and on budget.

CLIENT: Baker Hughes

ARCHITECT: Energy Architecture

SIZE: 270,000 SF

HIGHLIGHTS:
Medium Voltage Water Cooled Chiller Replacement
DDC Control Upgrade
AHU Replacement
Air Compressor Replacement
Renovation of Multiple Rooms
Electrical Design